Recent Event: Pre-APHA CHW Racial Equity & Anti-Classism Workshop
APHA Community Health Worker Section hosted the Pre-APHA Summit: Working in Solidarity with CHWs to Address Racism and Structural Inequities, supported by CHASM who partnered with North Carolina AHEC, Center for Community Health Education Research and Science, and Northeastern Bouvé College of Health Sciences. This Summit was based on Rumana Rabbani's RWJF HPRS dissertation work addressing systemic racism faced by Community Health Workers.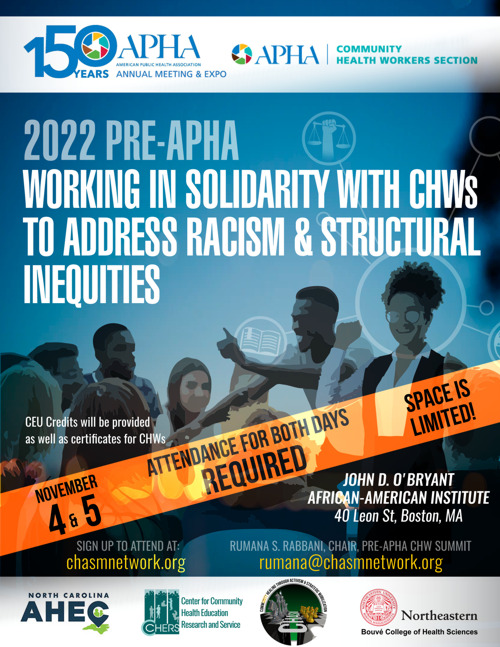 The Summit was held at the John D. O'Bryant African-American Institute in Boston, MA. There were two days of meaningful content to equip attendees with tools and resources to address racism and structural inequities that impact the CHW profession.
Community Healing through Activism and Strategic Mobilization (CHASM) is a Community-Based Organization (CBO) of strategic learning that aims to build capacity for Community Health Workers (CHWs) and CBOs within historically marginalized communities (HMCs) and inequities in order to enhance harmony within the ecology of our society. Our organization recognizes the deep "chasm" between European and Non-European ethnic communities in American society and institutional organizations, resulting in the perpetuation of racial inequities in our systems.
CHASM was founded by Rumana Shams Rabbani and Abdul Hafeedh bin Abdullah. Abdullah co-leads with the lens of violence prevention, healing, and empowerment through community-based public health strategies; Rumana co-leads with the lens of racial equity and justice to empower CHWs and CBOs on the systems level through public policy and formative evaluation. Their collaboration is based on lived and shared experience elevated by the Community-of-Solution skills of Leading from Within, Leading Together, Leading for Equity, Leading for Outcomes, and Leading for Sustainability, with the goal of system transformation.
Mission
CHASM is dedicated to empowering historically marginalized communities through empathy, advocacy, and honoring indigenous ways of knowing leading to community and systems transformation.
Featured Article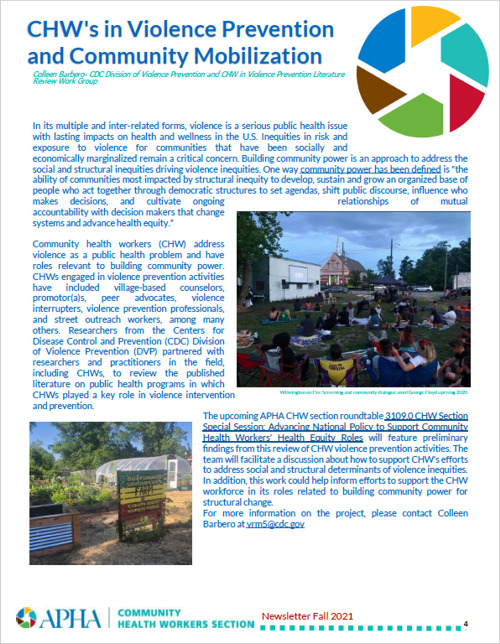 We have an article in the Fall 2021 APHA Quarterly Newsletter [PDF] that features our efforts! Check out page 4, CHW's in Violence Prevention and Community Mobilization.
Partner Initiatives & Activities
Contact Us!