Strategic Tools & Formative Evaluation
CHASM applies the socio-ecological model as their grounded theory in order to comprehensively address needs and gaps within the 5 levels: intrapersonal, interpersonal, community, organization, and systems.
CHASM has experience in using and implementing strategic tools to address gaps within our systems.
Internal Theories of Change, specifically the Driver Diagram, is used to outline the overall aim, primary drivers, secondary drivers, and change ideas crosswalked with outcome measures.
Logic models are also used as a strategic tool. They are graphic depictions (road maps) that presents the shared relationships among the resources, activities, outputs, outcomes, and impact for your program. They depict the relationship between a program's activities and its intended effects.
We conduct an assessment of root cause analysis using 5 whys, fishbone diagram, gaps analysis, and community asset mapping.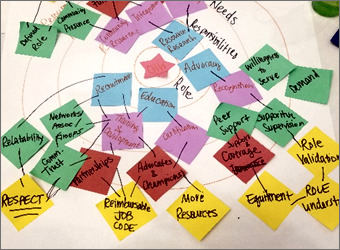 Projects applying these tools:
Spreading Community Accelerators through Learning and Evaluation (SCALE) was an initiative funded by the Robert Wood Johnson Foundation (RWJF) and led by the Institute for Healthcare Improvement (IHI)
Improving Population Health Action Community (IHI)
Wandersman Center projects
Title X, Family Planning Program, Office of Population Health/HHS
CHW Summit - interactive workshop on systems support mapping
RWJF HPRS dissertation work
Population Health CQI trainings, Physicians Network, UNC
Design thinking: GIC conference presentation
A National Initiative: Advancing the Racial Equity Journey using Design Thinking Mindsets and Methodologies
Rumana Rabbani, MHA, PhD Student
Melvin Jackson, MPH
Readiness Assessment and Equity